"Rome" Season One Blu-ray
Family dysfunction.
Treachery.
Betrayal.
Coarse profanity.
Brutal violence.
Graphic sex.
No, it's not "
The Sopranos
", it's "
Rome
", HBO's madly ambitious series that bloodily splatters the glory of Rome just as savagely as
Monty Python and the Holy Grail
soiled the good name of Camelot (but with far fewer laughs; very few funny things happen on the way to this forum).
Set in 52 B.C. (Before Cable), "
Rome
" charts the dramatic shifts in the balance of power between former friends Pompey Magnus (Kenneth Cranham), leader of the Senate, and Julius Caesar (Ciaran Hinds), whose imminent return after eight years to Rome after conquering the Gauls, has the ruling class up in arms.
At the heart of Rome is the odd couple friendship between two soldiers who fortuitously become heroes of the people. Lucius Vorenus (Kevin McKidd) is married, honorable, and steadfast.
Titus Pullo (Ray Stevenson) is an amoral rogue whose philosophy is best summed up, "I kill my enemies, take their gold, and enjoy their women."
Among "
Rome's
" most compelling subplots is Lucius's strained relationship with his wife, Niobe (Indira Varma), who is surprised to see her husband alive (but not as surprised as he is to find her upon his homecoming with a newborn baby in her arms!)
Any viewer befuddlement over "
Rome's
" intrigues and machinations, and determining who is hero and who is foe, disappears the minute Golden Globe-nominee Polly Walker appears as Atia, Caesar's formidable niece and a villainess for the ages.
In the first hour alone, she offers her already married daughter as a bride to the recently widowed Pompey. One eagerly awaits to see what (or who) she'll do next as much as we anticipate her comeuppance in the final episode.
Special Features:
- 8 Revealing Audio Commentaries with Cast and Crew
- "All Roads Lead To Rome": Interactive Onscreen Guide Prepared by Jonathan Stamp, the Series' Historical Consultant
- 2 "Shot By Shot" Features:
"Gladiator": A Closer Look at the Thrilling Episode 11 Fight Sequence
"Caesar's Triumph": Detailing the Production of the Epic Episode 10 Triumph Scene
- "The Rise of Rome": Behind-the-Scenes Featurette on Sets, Wardrobe, and Actors' Boot Camp
- "When in Rome": Featurette on the Culture of Ancient Rome
- "Friends, Romans, Countrymen": Introduction to the Characters of Rome
- Photo Gallery with over 50 Never-Bever-Seen Images
- 8-Page Roman Character Guide Booklet Featuring Names, Profiles, Relationships and Other Key Information
- Bloodlines
"Rome" Season Two Blu-ray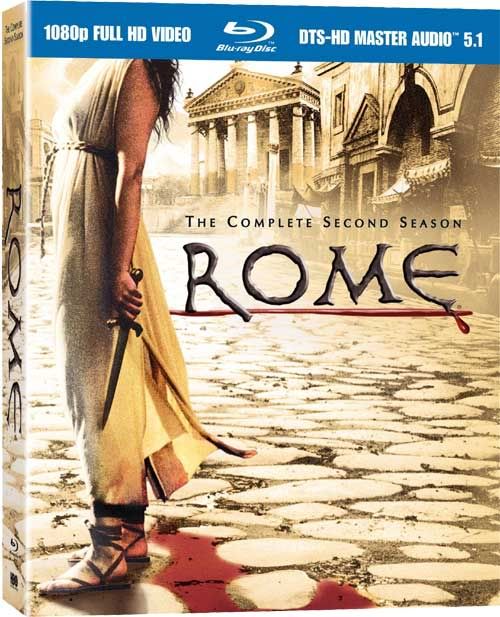 Season 2 begins in the wake of Julius Caesar's assassination, and charts the power struggle to fill his sandals between "vulgar beast" Mark Antony (James Purefoy) and "clever boy" Octavian (Simon Woods), who is surprisingly named Caesar's sole heir.
The series' most compelling relationship is between fellow soldiers and unlikely friends, the honorable Lucius Vorenus (Kevin McKidd) and Titus "Violence is the only trade I know" Pullo (Ray Stevenson), who somewhat reverse roles when Vorenus is overcome with grief in the wake of his wife's suicide.
Season 2 considerably ups the ante in the rivalry between Atia (an Emmy-worthy Polly Walker), who is Antony's mistress, and Servilia (Lindsay Duncan) with attempted poisonings and sickening torture.
Another gripping subplot is Vorenus's estrangement from his children, who, at the climax of the season opener are presumed slaughtered, but whose true fate may be even more devastating to the father who cursed them.
"
Rome's
" second season does not scrimp on the series' sex and violence, in both cases exceedingly brutal. But in this cauldron of treachery and betrayal, words, too, are vicious, as when a defiant Atia ominously tells Octavian's new wife, Livia, "Far better women that you have sworn to [destroy me]. Go look for them now."
In writing Rome's epitaph, we come to praise this series, not to bury it.
Although two seasons was not enough to establish a Rome empire, it stands as one of HBO's crowning achievements.
Special Features:
- Audio Commentaries
- Behind-the-Scenes Featurettes
- Photo Galleries
- Character Booklet
- Bloodlines