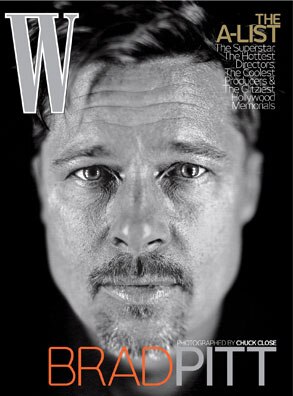 Is Brad Pitt trying to declare peace in the Brangelina vs. Jennifer Aniston media smackdown?
It seems that way in his latest interview in W magazine, where he's photographed au naturel and gives unguarded answers when asked about Jen's "uncool" comments.
"Jen is a sweetheart," Brad says. "I think she got dragged into that one, and then there's a second round to all of that Angie versus Jen. It's so created."
He echoes Jen's claims that they're still in touch, saying that he and Jen still "check in" with each other. "She was a big part of my life, and me hers," he continues.
But don't think he didn't defend Angelina too...
Brad shoots down claims that he and Angelina had an affair while filming Mr. & Mrs. Smith (while he was still married to Jen). Both stars have admitted they fell in love on set.
"We were still filming after Jen and I split up," Brad says. "Even then it doesn't mean that there was some kind of dastardly affair. There wasn't. I'm very proud of the way that it was handled. It was respectful."
Brad also dishes about the personal photos he snapped of Angie breast-feeding the twins for the previous cover of the magazine.
"It's really sexy to see your loved one through the lens," the budding photographer said. "I went much further [than the shot of Jolie breast-feeding]. I didn't show those."
E!
http://www.eonline.com/uberblog/hwoo...a_in_same.html
--------------------------