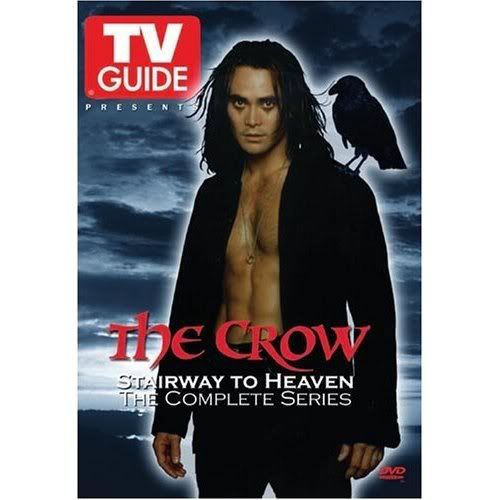 I'm quite surprised I never heard that this show officially came to DVD; it was released last year in '07. I own a bootleg of this series that I had for years but now I am definitely going to get the real deal.
The Crow: Stairway to Heaven
was a 1998 tv series based off of the 1994 film
The Crow
. The show stars martial artist Mark Dacascos as Eric Draven "The Crow". Draven's soul is sent back to Earth to right all of the wrongs of his life and to guide the people that he knew when he was alive. When his task is completed Eric will reunite with Shelly, his murdered lover, and they will cross over to the next life together. Shelly waits for Eric in limbo while he roams the earth.
Before its release people were mad and upset about this idea and they did not want to see this series happen. Brandon Lee ("The Crow" from the motion picture) had died 4 years prior to this series. However once the series started people began to warm up to it and the show had very positive ratings.
Unfortunately the series only lasted one season (22 episodes) and ended on a cliffhanger. When Polygram was sold to Universal they decided not to continue the series despite its positive reaction. There was word going around that they were going to make a TV movie to answer all of
The Crow's
loose ends but nothing ever materialized.
http://www.youtube.com/watch?v=QpTLGySWxdU
- The series intro.