Happy 37th Birthday today to 2002 Heisman Trophy Winner, USC Trojan Alumni, Longtime Cincinnati Bengal for 8 years, Former Oakland Raider and now, currently the Quarterback for the Arizona Cardinals
Carson Hilton Palmer
This past Christmas Eve, the 6'5" Quarterback got him a Early Christmas & Birthday Present when he went to Seattle and once again def. the Seahawks in Seattle and stuck it once again to his Former Coach and Mentor Pete Carroll
Here are the stories:
http://arizonasports.com/story/97416...y-the-numbers/
Arizona Cardinals quarterback Carson Palmer (3) walks off the field after an NFL football game against the Seattle Seahawks, Saturday, Dec. 24, 2016, in Seattle.
Carson Palmer's 3-0 mark in Seattle: By the Numbers
BY ADAM GREEN | December 26, 2016 @ 12:49 pm
In Seattle, if the Cardinals have QB Carson Palmer, they win.
It's that simple.
Well, sort of.
With their 34-31 victory over the Seahawks at CenturyLink Field Saturday, the Cardinals improved to 6-8-1 on the season, prevented Seattle from posting a perfect 8-0 record at home, and advanced to 3-1 in that stadium since 2013, which is when Bruce Arians and Palmer arrived.
The lone loss — which came in 2014 — was a game Palmer missed due to a torn ACL.
So, if the Cardinals have Palmer, they win.
"There's no doubt, three times with Carson," Arians said after the game when asked if the team has a certain level of confidence against the Seahawks with Palmer on the field. "We have been able to run the football good enough and Carson makes plays."
Palmer, who is conversely 0-2-1 against the Seahawks at University of Phoenix Stadium, said he was not sure if the team's success in one of the toughest buildings for a road team to play in proved beneficial Saturday.
"I don't know. This was just one of those weeks where we felt like we were going to win," he said. "To be 3-0 in this stadium, we take great pride in that. It's very difficult to do. That was the motivation all week, for me at least."
It's an impressive mark, no doubt, especially when you consider that the Cardinals' three wins equal the number of victories the rest of the NFL has had on the road in Seattle since 2013.
It may be shocking, then, to know that Palmer hasn't exactly been great in the victories. With that in mind, here's a look at Palmer's 3-0 record in Seattle, By the Numbers:
1
Twice in three games Palmer has thrown just one touchdown pass, having done so in 2013 and 2016.
1 (part two)
Palmer has been fined once for making an obscene gesture toward the home crowd once, in 2015. (Side note: If he would have just danced, like teammate Drew Stanton, he probably would have been OK.)
2
Twice Palmer has led come-from-behind game-winning drives, with an 11-play, 80-yard effort in 2013 and an 11-play, 83-yard performance in 2015.
3
Palmer has thrown five touchdown passes to three different players, with Michael Floyd being the only recipient with more than one (three). The other two have gone to Jermaine Gresham and J.J. Nelson.
5
Palmer has thrown an equal number of interceptions against the Seahawks as he has touchdowns, though it's worth noting that over the last two wins he has thrown four touchdowns against just one pick.
6
Though the Seahawks have a ferocious pass rush and Arizona's offensive line has been far from dominant, Palmer has been sacked just six times in the three wins. Conversely, he's been brought down 11 times in the two losses and one tie in Arizona.
17
Palmer has completed 17 passes to Larry Fitzgerald in the three wins, though 10 of those came in the 2015 victory. In 2013, Fitzgerald caught just 3 passes for 18 yards, and in 2016 he tallied 31 yards on four receptions.
45
Though he has thrown just two fourth-quarter touchdown passes in the three wins, the Cardinals have scored 45 points in the final frame of the three wins with Palmer leading the way.
59.2
Palmer has completed just 58-of-98 passes against the vaunted "Legion of Boom," which is good enough for a completion percentage that is a few ticks below his career average of 62.6.
80
The longest pass Palmer has thrown in one of the three wins over Seattle was an 80-yard bomb to J.J. Nelson in 2016.
825
Palmer has amassed 825 yards, or an average of 275 per game. His high is 363, which he passed for in 2015, while the lowest output is 178, which he tallied in 2013.
credit: arizonasports.com
http://www.foxsports.com/nfl/story/a...seattle-122516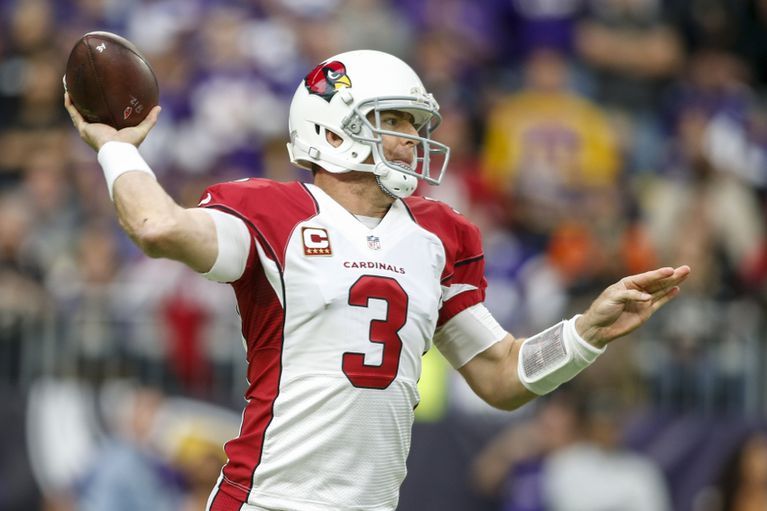 Arizona Cardinals' Carson Palmer perfect in Seattle
Jim Koch/FanSided via Raising Zona Fansided
Dec 25, 2016 at 7:48p ET
A road game in Seattle isn't appealing to NFL quarterbacks but Arizona Cardinals quarterback Carson Palmer is quite comfortable there
NFL oddsmakers didn't give the Arizona Cardinals much of a chance against the Seattle Seahawks on Christmas Eve. Seattle is playing well and is headed to the playoffs, while Arizona will be at home when the postseason begins. Two teams headed in two totally different directions.
But what those oddsmakers forgot to factor in was that Carson Palmer would be the Cardinals starting quarterback in Seattle. The "12th man", Seattle's rabid fans, are usually able to overwhelm opposing team's quarterbacks. But for whatever reason, those fans don't seem to be bothersome to Palmer.
Since joining the Cardinals in 2013, Palmer has gone 3-0 at CenturyLink Field. That's exactly half of the Seahawks losses at home since the Cards' signal-caller landed in the desert. He apparently has been kryptonite to the 'Hawks when he visits the Pacific Northwest.
The matchup there in December of 2013 was a defensive battle between the two teams. Palmer was awful for most of the day, tossing four interceptions. But a late, fourth-quarter drive produced an Arizona victory when Palmer found Michael Floyd for a 31-yard score.
In November of last season, the Cardinals quieted the "12th" man for most of the day by dominating the home squad. But two late Seahawk touchdowns off of Arizona turnovers had the Cards trailing. An
impressive, Palmer-engineered drive culminated in a Jermaine Gresham touchdown, putting them back ahead for good.
Arizona again dominated during the Christmas Eve win before allowing Seattle to get back in it late. A late scoring-drive was needed and Palmer came through. Kicker Chandler Catanzaro booted a game-winning field goal with time running out, giving the club a 34-31 triumph.
There's something to be said about a quarterback winning three times in a place where most can't win at all. Palmer admitted at his presser after the game that he takes "great pride" in being 3-0 at such a tough stadium. It's great beating a despised rival on that team's home turf, and Palmer has become quite adept at doing just that.
This article originally appeared on FANSIDED
credit: foxsports.com
http://www.cbssports.com/nfl/gametra...61224_ARI@SEA/
Catanzaro's field goal gives Arizona 34-31 win over Seattle
STATS LLC Associated Press Dec 24, 2016
SEATTLE (AP) The Arizona Cardinals continue to give the Seattle Seahawks headaches at home. This time, it will likely end up costing Seattle a first-round bye in the playoffs.
Chandler Catanzaro hit a 43-yard field goal on the final play and the Cardinals beat the Seahawks 34-31 on Saturday.
Seattle rallied from a 31-18 deficit, scoring two touchdowns inside the final three minutes to pull even 31-31. Jimmy Graham had a 37-yard touchdown catch and Paul Richardson's 5-yard TD with 1:06 left tied it. Steven Hauschka missed the extra point that could have given Seattle the lead, but it didn't matter in the end.
Arizona went 50 yards in the final minute and Catanzaro's kick was good, delivering a huge blow to Seattle's chances at the No. 2 seed in the NFC.
It was the Seahawks' first home loss this season; all NFL teams have now been beaten in a home game.
credit: cbssports.com
http://cardswire.usatoday.com/2016/1...over-seahawks/
Winners and losers in Cardinals' 34-31 win over Seahawks
By: Jess Root | December 25, 2016 9:37 am ET
The Arizona Cardinals ruined Christmas for the Seattle Seahawks, defeating them 34-31 in Week 16. With all parts of the team contributing, it was a great win.
Winners
Justin Bethel:
He's had a rough season; He lost his starting job and recovered from an injury. Many have called out his play at cornerback, but on Saturday he proved his haters wrong. With both Marcus Cooper and Tyrann Mathieu out, Bethel played in the slot and succeeded. He recorded five tackles, including one for a loss, and broke up three passes in coverage. He gave up a touchdown but played well, and Bruce Arians took notice.
Rodney Gunter:
Forced into a reduced role with the return of Corey Peters, Gunter has been nearly invisible all season. He contributed with a blocked field goal and a fourth down sack at the goal line, forcing the Seahawks to turn the ball over at the one.
Carson Palmer:
He played lights out. He completed 16-of-26 passes for 286 yards and a touchdown. More importantly, he defeated the Seahawks in Seattle for the third time. He is 3-0 as a starter for the Cardinals in Seattle. Every other quarterback in the NFL since Palmer joined the Cardinals is a combined 3-26 at CenturyLink Field.
David Johnson:
All he did was score three touchdowns and set more records.
Chandler Catanzaro:
After a missed field goal early on and after a frustrating season overall, he hits the game-winner.
Losers:
Tyler Lockett:
The Seattle receiver broke his leg on a fantastic catch. Cornerback Brandon Williams was draped over him and landed on Lockett's leg, which turned out ugly. The reception was originally called a touchdown, but after review was ruled down. He broke his leg and didn't score.
Steven Hauschka:
After missing the potential game-winning field goal in overtime against the Cardinals in Week 7, he his field goal was blocked and then missed what would have been the go-ahead extra point.
Brandon Williams:
Williams struggled in coverage, and his inexperience at the positions really showed. Bethel may overtake him on the depth chart.
credit: cardswire.usatoday.com
http://profootballtalk.nbcsports.com...n-wild-finish/
Cardinals knock off Seahawks in wild finish
Posted by Josh Alper on December 24, 2016, 7:52 PM EST
The Cardinals have faced the Seahawks in Seattle with Carson Palmer at quarterback three times in the last four years and they've won each time.
The most recent victory came on Saturday afternoon as the Cardinals jumped out to a 14-point lead and then answered every Seahawks attempt to come back with points on their way to a 34-31 victory. The loss knocks the Seahawks to 9-5-1 on the year and drops them below the Falcons in the pecking order for the No. 2 seed in the NFC for the playoffs.
It got dicey at the end for the Cardinals. They were up 31-18 when Jimmy Graham scored with just under three minutes to play. A short Arizona drive with some baffling play calls gave the ball right back to Seattle, who drove for another touchdown but Stephen Hauschka missed the extra point to leave the score tied. David Johnson caught passes for 13 and 29 yards to get the Cardinals over midfield and, with the Cardinals out of timeouts following a completion to Larry Fitzgerald, Chandler Catanzaro scrambled onto the field to hit a 43-yard field goal as time expired to get the win.
Arizona got three touchdown runs from David Johnson, who now has 33 touchdowns in his first 31 NFL games. Jim Brown, Gale Sayers and Edgerrin James are the only players with more scores to that point in their careers. Johnson also topped 100 yards of total offense for the 15th time in 15 tries this season.
Despite the late troubles, Arizona's defense will also be taking a bow after the win. The Cardinals sacked Russell Wilson six times and blew up a crucial fourth down play by forcing an incompletion on a zone read by Wilson deep inside Seattle territory. That helped the team build up enough of a lead that Seattle's stronger offensive play in the second half couldn't overcome.
Wilson ended the day 29-of-45 for 350 yards — 13 catches and 171 yards for Doug Baldwin — and four touchdowns, but missed a fair number of throws early in the contest even when he wasn't running away from the Cardinals pass rush. The Seahawks lost wide receiver Tyler Lockett and running back Thomas Rawls to injuries over the course of the afternoon, which further limited what they could do when they had the ball.
The offense has been a frequent trouble spot for Seattle this season, so the more worrisome aspect of this loss could be the defense's inability to slam the door in the second half. After cutting the Arizona lead to three points in the fourth quarter, the Seahawks gave up 74 yards in two plays to set up Johnson's third touchdown of the afternoon. That was followed by their inability to get the game to overtime at the end of the fourth quarter, which leaves the Seahawks in need of some help if they're going to get the first week of the playoffs off.
credit: profootballtalk.nbcsports.com
Arizona Cardinals kicker Chandler Catanzaro (7) reacts as teammates cheer after he kicked a winning field goal on the final play against the Seattle Seahawks in an NFL football game, Saturday, Dec. 24, 2016, in Seattle.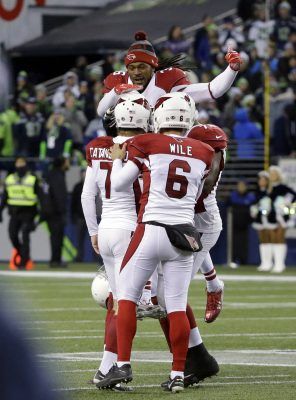 Arizona Cardinals congratulate Chandler Catanzaro (7) on his winning field goal on the final play against the Seattle Seahawks in an NFL football game, Saturday, Dec. 24, 2016, in Seattle.
Carson Palmer in Seattle of 2015 shaking hands with his 1 time Mentor Pete Carroll
Carson Palmer; 2002 Heisman Trophy Winner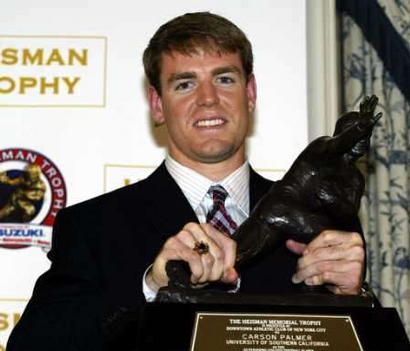 Carson Palmer #1 Draft Pick to the Bengals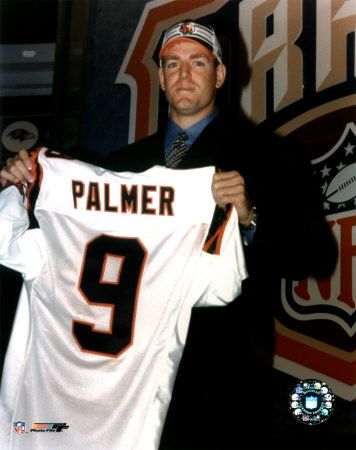 Happy Birthday to ya Carson Palmer, God Bless You and CONGRATULATIONS on defeating the Seahawks in Seattle once again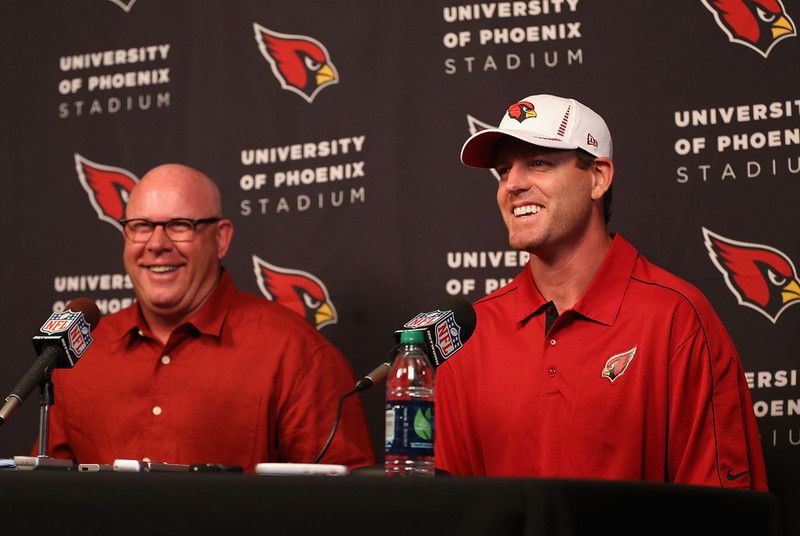 Cardinals vs. Seahawks on the NFL on FOX from 2013
The Beginning of the Carson Palmer/Bruce Arians Era
http://www.nfl.com/gamecenter/201312...inals@seahawks
Cardinals vs. Seahawks on NBC SUNDAY NIGHT FOOTBALL from 2015
Cardinals vs. Seahawks on NFL on FOX from 2016